After years of working behind the scenes I wanted to help people one-on-one to get to know their individual needs and have a positive and more direct impact on their lives. That is how Styled Sharp was born!
As a seasoned menswear designer, I've made it my mission to sharpen the style of New York men. You're welcome, ladies!
With over 15 years of hands-on experience at companies like Calvin Klein, Macy's and Nautica, this experience trained my eye to know what men want to wear and should wear. I've sourced the highest quality fabrics and perfected fits on all body types so I can curate a style that reflects your personality. AND because it's completely customized, it can't be pulled off the racks- not even by your wife or girlfriend.
From individualized styling services to corporate seminars and workshops, I help clients redefine their personal & professional image and create a visual impression that is uniquely and perfectly suited to them. I help you create the image that says exactly what you want to say without uttering a word.
"Dress SHARP, Get Noticed"
—Tavia Sharp
Founder & CEO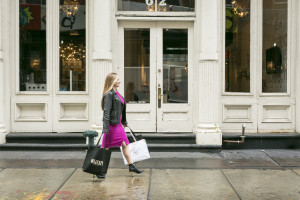 Q&A:
Hi there! So cool to meet a real, live, in-the-flesh stylist!
Ha! Thanks! We do exist!
So, when most people hear the word "stylist" it follows the word "celebrity." How is what you do different?
Well, for starters, what I do has nothing to do with the red carpet or movie premiers. I work with civilians like you and me (except, guys mostly) to help them build the wardrobe and a look that suits them best. In other words, my clients come to me for my professional expertise in finding the perfect fit and style to go with their body and lifestyle. The results have a positive and immediate impact on their personal and professional lives, so it's a very rewarding experience for everyone!
I can imagine! The clothes make the man, I always say…or wait, is it the other way around?
It can go both ways actually. That's where I come in. Ideally, the clothes are complementing a guy's overall look and shape, not competing with each other for attention. There's no one-size-fits-all approach when it comes achieving the perfect look for any one man. That's why a personalized, one-on-one consultation is key to developing the best style for anyone, so that his personality, build and daily schedule have the proper input and are given adequate consideration. And that's how I work with all of my clients.
Makes sense. So it's not about universal rules or blindly adopting the latest trend to look stylish, right?
Right! What works for one guy could be disastrous on his friend who's of the same height and complexion because of other factors. Although, there is a lot to be said of flat-front linen khakis… There are a few key pieces that every man should have in his arsenal. So sometimes the trick is helping a guy find the brands that cut jackets and pants more narrowly than most brands, or upgrading his weekend uniform so that he looks 'dateable', not dated.
I hear you! I walk by those guys all the time! So cute, yet not approachable, because of how sadly they're dressed. Is norm-core to blame?
It's not helping, that's for sure! It's actually a lot of things, including a mass market mentality among most mainstream stores that cater to the widest/largest/ most boring denominator. Retail marketing messages lead guys to think that all they need to know is their neck size, waist size and shoe size, when in reality looking good for the long term requires a good dose of experience and knowledge. My first clients sought me out because they figured a woman who designed for the likes of Calvin Klein and Nautica for over 14 years probably knows a bit about how to make them look better. Lucky for them, they were right!
And that's what got me to switch careers!
Amazing! You have them to thank!
I do! And they've been super grateful as well, happy to pose for before and after shots and refer additional clients.
Who else refers you?
Usually girlfriends, wives, the occasional concerned sister. They appreciate that good clothing are an investment, and throwing away money at disposable fast-fashion is a lost cause. They also love that I create a Lookbook of curated looks for their men, so that they're off the hook when it comes to getting ready to go out, dressing up for date night, et cetera!
Ah yes! No more "Hon, what should I wear?" while the Uber driver is pulling up!
Nope! Simply consult your personalized Lookbook and surprise your girl with your new-found sharpness!
I love it! I can finish doing my make-up in peace!
Yep! And save time and money to boot since his wardrobe is a thorough mix of modern and classic pieces designed and built to last.
So how can guys and the women who love them get started with you?
It's easy! A simple email to Tavia@styledsharp.com does the trick. We set up an appointment to meet, go over several lifestyle and size questions, I shop for the client, and then comes the fun part: trying everything on in the comfort of one's own home! I take care of any returns and exchanges, so the client frees up the time and expense of having to schlep around town dealing with more errands. We refine several types of looks and finalize the combinations that fit the client's personalized style profile or I can update to include new pieces if desired. It's all very streamlined, efficient and effective.
Sounds like it! Any tips on how someone could approach someone in need of your services?
Sure. If someone knows any guys in their life who are looking to 'Get dateable' or who are simply overwhelmed by their wardrobe, just ask… "Have you heard of Styled Sharp? Tavia Sharp is a style consultant who knows that 'fashion' can be daunting for most men. She provides you with the tools to elevate your look all while making sure you get the most out of your wardrobe. How awesome is that?! Check her out!