Is your wife or girlfriend always nagging about how you dress?
Does she often make not-so-subtle hints that you should try to look a little nicer for 'date night'?
Has she ever taken matters into her own hands and actually thrown away clothing items from your closet (probably without you even knowing)?
Women absolutely love it when their men look good and to be completely blunt, sometimes the men in our life are just a bit clueless when it comes to fashion. And it's not that she loves you any less because of they way you dress but when you look good, we look good together!
As a mens stylist and image consultant, the most common complaint I get from women is that their significant other dresses too 'casual' and getting him to upgrade his wardrobe has been like pulling teeth but they would really love it if he'd step things up a notch in the style department.
Single guys included…if you want to up your game, you have to dress the part. Dressing well increases your level of attractiveness. Now, this doesn't mean you need to look like you just stepped off a runway, but a little fine-tuning is where I come in. So I want to offer a few of my styling tips that will impress her!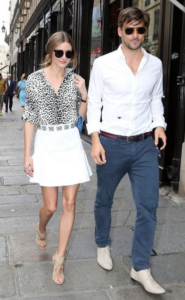 1. Fit
When it comes to improving style, fit is what really matters not so much the cost of the clothes. Men sometimes get stuck in a rut wearing the same clothes you've had for years! The right fit changes the whole look. Take jeans for example, you have to get used to a more updated fit. But once you start wearing the ones that actually fit, that pair will become your new favorite andyou won't want to go back to the baggy, out-dated pair you used to wear.
2. Color
More often than not, I open a client's closet and all I see is one drab color story. It's definitely important that a guy has his standard grays, neutrals and blues as these are the most versatile and easiest to match up but try to throw a little color into your wardrobe mix. A brighter blue or a lighter shade of purple can make your outfit pop. Once you start getting compliments, believe me you won't want to go back to blah!
3. Basics
There are few items that I always recommend as the foundation of any man's wardrobe. So if you plan on buying new clothes, these are the items worth investing in:
Clean, dark denim jeans
Cotton chinos or 5 pocket pants in basic colors
Well-fitted, stylish blazer
Well-fitted

dress

shirts
White & gray v-neck t-shirts
Fitted polo shirts
Quality brown leather shoes
Brown leather belt to match the shoes
Bold pattern

dress

socks
Stylish sneakers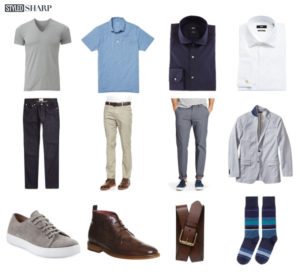 4. Donate
When helping a client go through his wardrobe, we talk about what's working and what's not. Whatever is a 'must get rid of', I always suggest to donate. You can also order a bag from Thredup.com and sell your items for a little extra 'night out' cash. Done.
Once you start wearing your updated looks, let the compliments keep rolling in!
Your Style Wing Woman,
Tavia Sharp