As the Fall leaves settle, the Winter chill is upon us. This is your queue to change up your wardrobe and make your outfits stand out in the noise of the Holiday season.
As some of you are socially distancing from your loved ones, you can still lift your spirts by dressing up and looking your best. This Winter/Holiday Guide will literally guide you through every step to make it super easy for you to look sharp this season!
As the weather cools down even more, it's time for you to add in more appropriate fabrics and layers. You'll want to learn how to layer up so you can stay warm and look sharp doing it. Here are my recommended Winter weight fabrics to look for:
Winter Fabrics
1. Wool 
Time to layer up your warmer clothes and, maybe purchase a few more pieces to enhance the look even further. Wool is also a great choice because wool helps regulate body temperature so odor is less of an issue. Thanks to its antimicrobial properties, wool clothing creates an environment in which odor producing microbes are less likely to thrive.
Sharp tip: Look for 100% wool and make sure to check the inside care label as many brands use wool-like substitutes and blends to cut costs.
2. Puffers
Puffer outerwear styles are great for Winter days. They are insulated with polyfill fabrics which allow the body to stay warm without the heavy weight of a big coat.
Sharp tip: Look for puffers that made from natural fibers. This allows for more expensive look and more breathability.
3. Corduroy
Corduroy is great for the Winter weather because it will keep you warm, especially for bottoms. This is what the industry calls pile fabrics, meaning the fabrics are woven with extra fibers to create 3D texture and in turn, extra insulation is created.
Sharp tip: Look for corduroy that made from cotton or wool. This allows sweat to perspire while keeping you warm.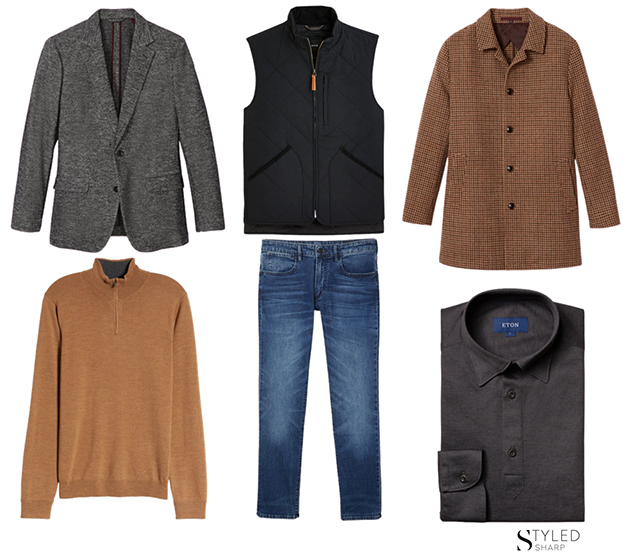 Winter Colors and Patterns
This is the time to embrace textures and patterns. Don't worry! the patterns are small and subtle, and they are there to enhance the fabrics.
Sharp tip: mixing colors and heather fabrics will give people something to look at up close! Great conversation starter.
The fit of a button-up shirt
When searching for the button-ups, I believe fit to be the most important factor and unfortunately, not all brands are created equal. You must take into consideration your body type, weight and heigh when searching for your ideal shirt and the fit that suits you best. Important points to consider:
1. Collars: The collar should fit comfortable surrounding the neck, not too tight or loose. Note: You should be able to fit 2 fingers in between the collar and neck.
2. Shoulders: The end of the shoulder (i.e. start of the arm) has a bone that indicates the shoulder tip. The is where the sleeve should start.
3. Armholes: The key here is to find the right balance of fit and comfort, i.e. not too loose where there is a bunch of excess fabric under the armpit, but not too tight where your movement is inhibited.
4. Sleeves & cuffs: Similar to the armholes, fit is key and the cuff should only pass your wrist bone about 1/2 in.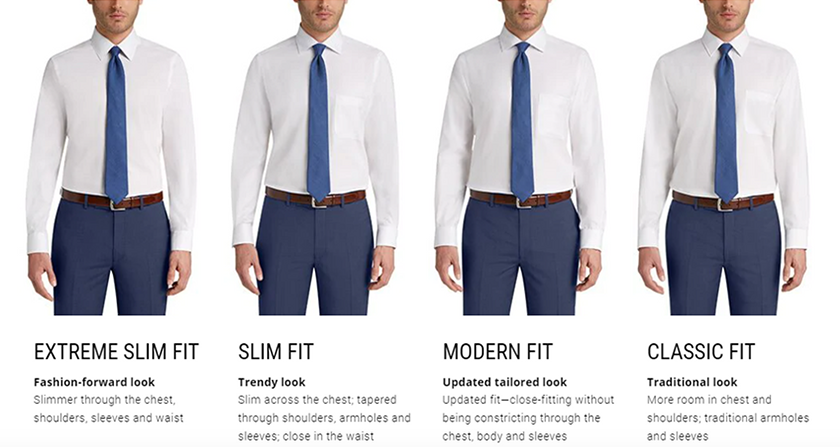 Winter Outfit Combinations
Work From Home Style: "The Business Professional"
This look involves a nice sweater with a unlined blazer to compliment the sweater. You can pair it with comfortable dress pants or dressy jeans for more comfort.
Sharp tip: Accessorize your personality with pocket square to give something extra.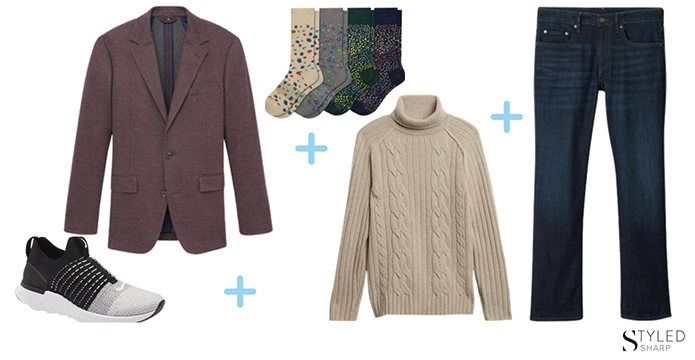 First Date Style: "The Dinner Date"
This is a date where looking your best is not an understatement. This does not mean you have to look overdressed. You want to show off the best version of yourself through your own sense of style. No woman wants to see their date looking schlumpy. It might sound superficial, but she wants you to look good for her.
For the top, try a turtle neck and a sharp blazer. For the bottom, wear a stretchy, more relaxed pair of jeans with a pair of laced up boots. This outfit embodies a sense of coolness for a date. Also, when the weather gets colder at the night, you can always lend her your jacket (make sure the jacket is clean and smells nice).
Sharp tip: A little cologne is a nice touch and will definitely grab her attention in a good way.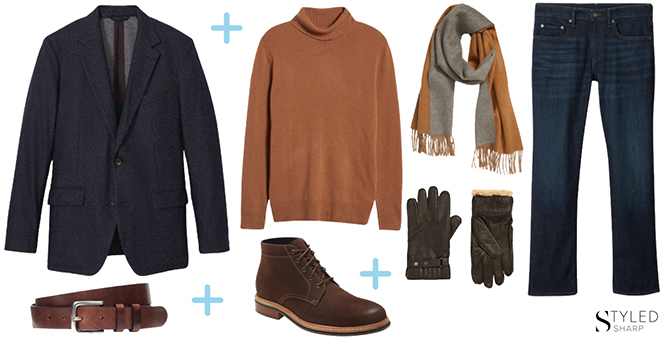 Weekend Style: "Home for the Holidays"
It is an understatement to say that we need to spend more time with others, especially with family after this year. This look should be thought out but not too over stylized. A nice, soft cashmere sweater with a heather blue blazer will do the trick on top. Since eating will be a big part of the holidays, a pair of nice stretchy jeans will allow comfort with a touch of coolness. Of course, accessories will round out the look as well.
Sharp tip: You can subtly wearing the holiday spirit with a burgundy color sweater without screaming Christmas!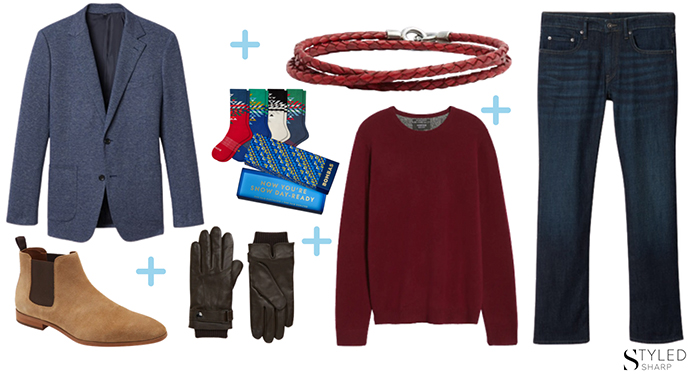 For more shopable head-to-toe outfits and Winter fabric care tips, make sure to download the full Styled Sharp Winter Style Guide!
Looking for more personalized help with your Personal Brand Style? Let's talk!