It's hard to believe March is almost over! Good news though, Spring is officially here! And with that comes the need to rotate your closet to warm weather gear. So open up your closet and ask this…are your clothes working for you or against you?
I'm challenging you to a Spring closet clean out. Not sure where to start? Don't worry, I got you covered. I've devised a quick guide designed to help you get rid of the items that are just not working for you anymore.
I know: You're busy. But trust me on this, it is worth it. Why? Because others will notice…women especially will notice!
So, are you game? Okay, let's get started!
#1: Edit out that ill-fitting suit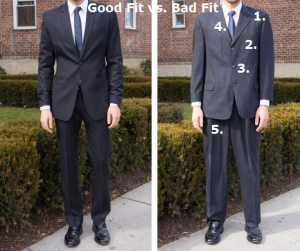 Gather all of your suits and blazers and check them for fit and details. Things to look for:
1.Shoulders. Note, the shoulder pads should end right at your shoulders.
2.Color. Black suits are for waiters, limo drivers, and funeral directors. If that's not your job, then you don't need to own one.
3.Buttons. Are there 3 buttons at the front? This style is outdated.
4.Lapel. Too wide? Same as above.
5.Pants. Are they pleated? No explanation necessary.
Here's a tip on fit…since the shoulders are the hardest to tailor, make sure they don't stick up or out. If so, the jacket has to go. Chest or waist too big? Sleeves too long? Good news, these can be altered.
#2: Let go of at least three pairs of outdated jeans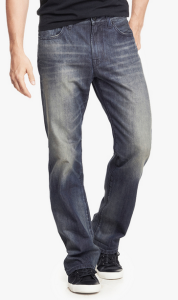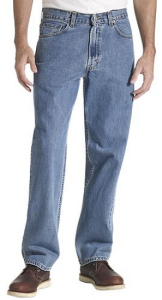 Open up your denim drawer and ask yourself, how long have those jeans been hiding in there? Inspect them for the following:
-unnatural distressing (light color areas or streaks)
-contrast stitching on pockets
-baggy in the leg or rear
-frayed bottoms or boot cut
-'dad' jean stonewash
If most of your jeans meet any of the above criteria, it's time for a denim overhaul. Please contact me ASAP!
#3: Shoes…ditch the pair that's beyond repair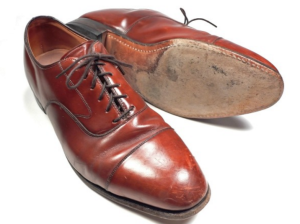 Take a good look at your shoe collection and pull out any that have visible scuffs or scrapes. Take them to your local shoe repair guy to have them buffed up. They will look brand spankin' (well, almost) new again!
#4: Old t-shirts, save no more than 12 max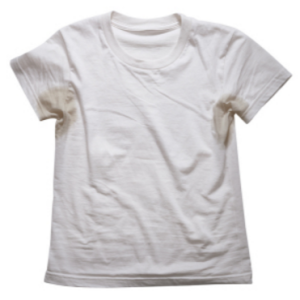 Check for stains, holes or discoloration and then turn them into reusable rags for cleaning up your space. As for graphic tees…the ones with the funny sayings. There's really no need for them. Unless you want to look like you're still in college, leave 'em for the Hipsters. I recommend donating them to your local Beacon's closet.
#5: Get rid of any shirt with busted collars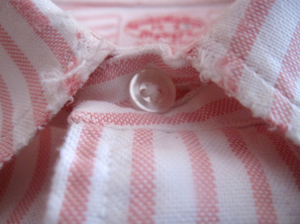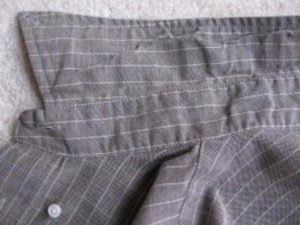 Check the collar for both shape and discoloration around the edges. do you really want your co-workers…or better yet your date staring at your misshapen, worn down collar? You only get one chance to make that first impression. Also, puckering on the collar means the interlining (material on the inside that gives the collar stability) is shot. Even a tailor can't fix this.
#6: Edit out at least one stretched out or overly-pilled sweater before folding down the rest
Fold, DO NOT…I repeat DO NOT hang your sweaters like do with your dress shirts. Knits stretch out over time. They lose their shape and cause those annoying hanger dimples at the shoulders. Once the fabric is too stretched out, it's not fixable. Also, check for pilling (small tangles of fabric that naturally come loose where the garment is rubbed the most).
#7: Edit out at least 3 hideous and off-putting ties
If your tie isn't looking up to date, it should be destroyed. Yup! Give it up. Today's tie widths are narrower but tie patterns are still somewhat conservative. If the pattern looks like its straight out of 1995 (yes, that was 20 years ago!), its time to donate.
Were any of these challenges too daunting? Have you been thinking about hiring a personal stylist? Just shoot me an email and we'll get it set up.
I look forward to working with you! Drop me a line here.
Your Style Wing Woman,
Tavia Sharp