It's officially day 111 of working from home and by now, you're probably feeling the Zoom fatigue from all those virtual meetings. 
If you're still working remotely like myself, you are most likely packing in way more Zoom meetings than you would in a normal office setting which has made us all more fatigued than normal (me included!).
Well today, I want to point out a few of the positives from attending more video calls versus the in-person meetings that we're all used to. 
Video calls don't require you to commute anywhere besides your home office (or in some cases your living room), which also means you don't actually have to get dressed up like you would if you were going into the office or meeting with your clients in-person.
A recent study done by the NPD group stated that only 10 percent of people get dressed for working at home at the start of the day and change into "comfortable clothes" later. 
For some of you, that may mean having a so-called "Zoom shirt" on hand or even a few shirt options you rotate for your video calls.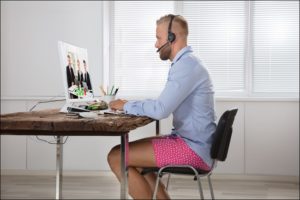 That may work sometimes but many studies have proven that what we wear is directly correlated to how we think and feel so getting dressed for your day while working remotely puts you in the right headspace to be productive. Clothing not only enhances our psychological states, it can actually improve our performance on daily tasks and get your head in the game while working from home.
And with Zoom's daily active users jumping from 10 million to over 200 million in just 3 months, showing up as the professional you are in virtual meetings is not just important today, video meetings are here to stay! Here's my 5 expert tips to elevate your image and impact in a virtual world.
1. Take control of your image
The spotlight is on you so your image matters online now more than ever. It's more confronting between distractions and staring at yourself however the one thing you have control of is your image. This means you can still look cool and collected under pressure despite what's going on. Make sure to ask yourself, "how am I being perceived"? 
Don't be like this guy and get caught with your pants down, literally!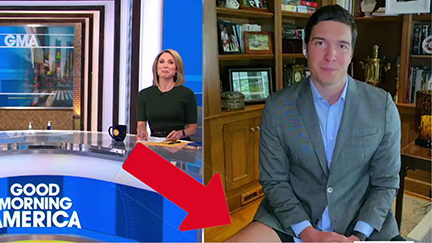 2.Dress appropriately
If you have a meeting planned, get dressed. As far as appearance goes, the basics still apply here: for men, it's a pressed shirt and a fresh shave. I agree you can go a little more casual than a suit and tie, but that depends on who you're meeting with and the kind of business you're conducting.
If you're meeting with colleagues, determine the overall dress code and follow it. Working from home or not, there's still no reason to show your co-workers your PJs and bedhead.
3.Things to avoid
Avoid wearing white and harsh colors like black: Whites are brighter on camera and may overpower your face, making eye contact virtually impossible. Colors that look best on camera include deep colors such as navy, and solids should always be selected over prints.
Avoid busy patterns: It's okay to embrace more color and accent in your clothing choices, however busy patterns are distracting on camera.
Sharp tip: Set up a fake zoom call and try on outfits in advance to see your faves like I recently did with one of my clients.
"Tavia advised me on how to assemble and coordinate an appropriate look for my virtual meetings. Prior to our virtual session together, she had me photograph several different alternative shirt and tie combinations. During the wardrobe review, Tavia gave me particularly great advice about the jacket(s) that show up well on Zoom with these combinations and pointed out deficiencies in the wardrobe choices that I might make in the future.  I now look great on the screen all thanks to Tavia's spot on style advice!"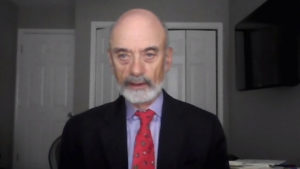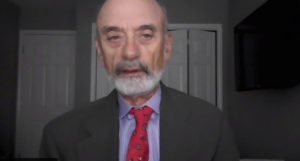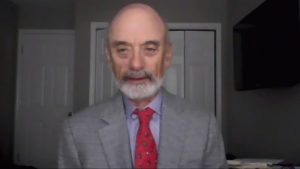 Avoid distracting jewelry or other accessories: One of the key accessories for the Summer is a pair of sunglasses. Make sure you take them off your head before joining in a video call. (They do not count as an accessory!) Wear minimal jewelry and stay away from anything too shiny that might catch the light on camera.
4.Frame your background
Besides your clothing choices and your grooming, make sure to also attend your lighting and background. You may not be leaving home, but you're inviting people into your "home" so set the tone.
Select the best room for your meetings which includes good lighting. Remember to draw the shades. Sunlight shining through a window is equally as distracting as wearing bright colors or a printed shirt.
And make sure your background is professional and work appropriate! This means: No unmade beds in the background, no messy rooms or open closets where everyone can see your clutter and no inappropriate artwork on your walls.
Think of it this way, you wouldn't want your boss or a colleague to stop by your place before you are dressed, or come into your home before you've straightened up a bit — so you don't want your webcam meeting to reflect an impression you wouldn't project at any other time.
Sharp tip: You can also create a professional background using the advanced features in Zoom.
5.Keep distractions to a minimum
Silence your phone: Leaving your phone on during a video call is almost as bad as leaving it on in at a movie theater. The last thing you want to do is be scrambling to turn it off during a meeting. Be sure to silence it or turn it off just as you would if you were meeting in person.
Mute your microphone: There's nothing more frustrating than hearing someone talking while you're trying to hear the presenter. Save everyone from the ear-splitting madness by joining the meeting while on mute.
Stop the multitasking: It's not only distracting to everyone else in the meeting, it's also preventing you from devoting your full attention to the meeting. People can still see you!
Remember, consistency is key. It's about becoming aware of the impact of your image and the intentionality behind your choices. Starting with the formality of the meeting, the attendees, and then selecting the image that will contribute most to the outcome you want to achieve including how you will be remembered after the meeting is over.
Need some help looking sharp on your virtual meetings? Book your Virtual Style Session today!